September 30, 2014
5 Factors to Consider When Choosing a Bulk Transport Carrier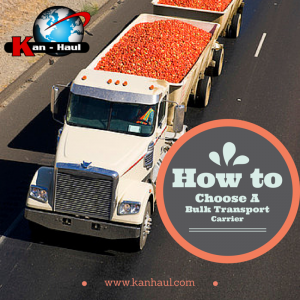 If you're a food & beverage supplier or distributor, reliable bulk transportation is among your top concerns. Too many things can go wrong that can have a dramatic effect on important business relationships. This is why most companies decide to use a third party who specializes in transportation to get their merchandise to where it needs to be. However, not all transportation companies are the same. There are some things business owners and managers should look for in a bulk transport company. These include safety, service, reliability, efficiency, and assurance.
Impeccable Safety Standards
When it comes to handling your product, you want a company that will make safety its number one concern. This is especially true for food product and liquids such as alcohol. A bulk food carrier company should be able to explain its standards for safety to you before it ever makes one delivery. At Kan-Haul, we set the safety standards in our industry. We go above and beyond the requirements because we know what will get the product to its destination safe and secure.
Personalized Full-Service
Not every business is the same. Some companies need air transportation. Some need trucking. Some need ships. Others need a combination of all three! You do not always know when your bulk transportation needs as a product-based business will change. That is why you need a bulk transportation company on your team that offers versatile options. If you need to ship food fro one cold storage facility to another, you need refrigerated transport. We understand the needs of food shippers and can respond to your needs. Having a relationship with one company that can do it all saves you time and money.  At Kan-Haul, we pride ourselves on our versatile transport options and our quality full-service.
Unfailing Reliability
You need to be able to depend on your transportation company. Experience is the key to reliability. With so many options and regulations in the bulk food carrier industry, it is important that the company has the necessary procedures for dealing with a routine as well as unexpected situations. Kan-Haul has over 70 years of family experience in the transportation industry and 30 years of experience in food grade transportation.
Efficiency and Growth
While trucking is the most common mode of food transport, rail, maritime, and air also play a role, especially in international shipping. A bulk transport company should have a global network of business relationships that can work for you to help grow your business. Additionally, not all vessels can hold the same amount of product. For you to get the most out of your load, you need options. At Kan-Haul, our services are tailor made for our customers. We have many options to choose from to make your delivery as efficient as possible.
Ironclad Assurance
Not knowing can be dangerous in the transportation industry. Without being certain of when your shipment will arrive, you risk wasting time which is valuable in our trade. Some bulk feed carrier companies will send drivers out blindly and communicate by cell. This is not a very efficient way to make sure the delivery is running smoothly. A better option is a load tracing system that allows you to track the load and be alerted in an emergency situation. This means your supply chain can run more efficiently, which means your customers are happier. At Kan-Haul, we use a program called LoadTracker. Our clients can monitor their loads and stay on top of any emergency situation. This program is one of the most efficient in the industry.
Call Kan-Haul Today for Bulk Transportation!
Kan-Haul has the equipment, experience, and commitment to get your load to where it needs to be. If you need a bulk transport company that can help your business grow, call Kan-Haul at 1-800-959-9501 today, or contact us online.
---