September 10, 2014
GRAPEFEST 28TH ANNUAL A WINE EXPERIENCE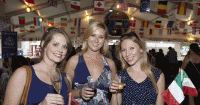 ENJOY the largest wine festival in the Southwest. Grapefest is four, full days of fun for everyone in Historic Downtown Grapevine.
28th Annual GrapeFest – A Wine Experience
Unique wines, fantastic finds, live entertainment and family-friendly fun will highlight the 28th Annual GrapeFest® – A Wine Experience in Historic Downtown Grapevine September 11, 12, 13 and 14. In addition to sampling Texas wines from across the state, festival guests will have the opportunity to sample premium Washington wines, many of which are not routinely available in Texas and high-end premium Italian wines from the three regions of Italy.
Events
GrapeFest Events
GrapeFest® Attractions
There's four full days of family-friendly festival fun for everyone at the 28th Annual GrapeFest®!
Kids of all ages will love the games and rides along the Carnival and Midway. And don't forget to check out the Unlimited Carnival Ride Pass available for a limited time on Thursday, September 11.
Spend some time with the interactive fun at KidsWorld. LEGOLAND® Discovery Center's Fun Builds, SEA LIFE Grapevine Aquarium and much more fun await guests of all ages.
Have you ever seen an artist with a chain saw? Check out the Ice Carving demonstrations for some cool fun.
Shop for unique finds with the artisans and along Grapevine Marketplace throughout the festival.
And don't forget to stop by the Grapevine Grand and Tower Galleries to enjoy exciting and interactive family-friendly museum exhibits throughout GrapeFest.
Avoid the lines at the gates, purchase your GrapeFest tickets online!

Festival Food
Check out a variety of festival food offerings such as turkey legs, burritos, corn dogs and lemonade. And if you're looking for something sweet, you can find it with snow cones, cotton candy, kettle corn, candy, funnel cakes, Root Beer floats and more. Yummy! And don't forget that all of the restaurants on Grapevine's Historic Main Street will be open during the festival.
Featured Festival Venues

The largest consumer-judged wine competition in the United States, featuring more than 130 wines from 38 Texas wineries.
Wine Pavilions
Enjoy wines from around Texas and the world
About Texas Wine
Texas Wine Industry
As the fifth-largest wine producing state in the U.S., the Lone Star State's sunny, dry climate has long since made for ideal wine production. Some of the earliest recorded wine making in Texas was in El Paso in the 1650s by Spanish missionaries. And did you know that Texas is also noted as the site of the first vineyard in North America? Today, Texas boasts more than 4,400 acres of producing vineyard farmland and produces a variety of spectacular vintages each year.
Texas Wineries
There are 310 wineries in Texas, ranging from small producers who concentrate on tourism for the majority of their sales to large wineries who have developed state, national and international markets. The state boasts eight American Viticultural Areas (AVA): Texas High Plains, Escondido Valley, Texas Hill Country, Bell Mountain, Fredericksburg, Mesilla Valley, Texas Davis Mountains and Texoma. Harvest time in Texas is normally around the end of July, two months earlier than in California and three months earlier than most of the wine regions in France.
Texas Wine Production
In Texas, we do things big or not at all, including wine production. In 2005, more than 1.5 million gallons of wine were produced in the state. The wine industry contributes more than $1.83 billion of economic impact to the State of Texas.
So, grab a glass and see what the Lone Star State has to offer!
Washington Wine Experience
The 28th Annual GrapeFest® is pleased to feature wines from the state of Washington. Check out the Washington Wine Experience located at the corner of Main and Texas Streets. The Washington Wine Experience will offer two options for guests to enjoy wines from The Evergreen State.
Those wishing to enjoy Washington wines that are distributed in Texas will have the opportunity to purchase these wines by the glass at the Washington Wine Experience and at various wine pavilions located throughout festival grounds.
GrapeFest will also feature more than 15 varietals from Washington wineries that are not normally distributed in Texas. Why spend hundreds of dollars to travel to the West Coast to try these wines when you can enjoy them in Grapevine for just a few dollars? The Washington Wine Experience tasting is a separate ticketed event and includes a souvenir wine glass, six 1-oz. samples, and the opportunity to meet winery representatives from participating wineries. Tickets are $12 in advance and $14 at the festival. Additional wine samples can be purchased at the event.
Events
Vote for your favorite. 40 Texas Wineries pour more than 130 wines. Tickets are $20 and include a wine glass and ballot.
Location – Cotton Belt Railroad District
Champagne Cork Shoot-Off
Saturday, September 13
12:30 p.m.
Cotton Belt Railroad District
705 S. Main St.
Test your cork shooting skills at the Champagne Cork Shoot Off at the 28th Annual GrapeFest®!
Participants can see who can shoot a champagne cork the farthest. Champagne bottles are placed on a stand and participants push the cork out of the bottle, trying to shoot the cork the farthest distance possible.
There is no entry fee and prizes are awarded for the top three distances.
Main Street and Wall Street
$5 per person
Does not include festival admission
Grab your girlfriends, your significant other or even your co-workers to squish and stomp at the ever-popular GrapeStomp competition!
So, just how fast can your feet fly at GrapeStomp? Two-person teams create their own special "I Love Lucy" moment and take turns stomping approximately 18 pounds of grapes for two minutes. Teams that stomp the most juice are eligible to participate in the Grand Championship StompOff on Sunday, September 14 at 3 p.m. Winners will be awarded the coveted and sought-after "Purple Foot" award and a beautiful glass foot from Grapevine's Vetro Glassblowing Studio. In 2013, the Grand Champions, Elizabeth Hilscher and David Dedrick of Dallas stomping under the name Sugar and Yeast, stomped more than 40 ounces of juice so come on out and challenge that total in 2014!
GrapeStomp is great fun for the whole family. Bring your own cheering section to watch all the stomping and share in all the GrapeFest fun! And while you're there, you might just decide to step up to the GrapeStomp challenge.Entry fee is $5 per person.
GrapeStomp session occur every half hour at the following times:
Thursday, September 11:
4 p.m. – 7:30 p.m.
Friday, September 12:
2 p.m. – 7:30 p.m.
Saturday, September 13:
2 p.m. – 7:30 p.m.
Sunday, September 14:
12 p.m. – 2:30 p.m.
Sessions are held throughout the weekend and fill up quickly so get there early to register.
Special GrapeStomp events include the Senior GrapeStomp at 10:30 a.m. on Friday, September 12 and the Mayoral GrapeStomp on Saturday, September 13 at 11 a.m.
Children ages 13 and under can stomp for free. The GrapeStomp stage is located in the shadow of Grapevine City Hall and close to the Champagne Terrace.
Texas Wine Experience

Whether you want to learn more about the Lone Star State wine business, tour one of the city's many wineries, enjoy a festival dedicated to Texas wine or sample a local award-winning wine, you can do it in Grapevine.

Texas is the fifth-largest wine producing state in the nation, and Grapevine has earned its reputation as the headquarters of the Texas wine industry. You can plan an entire getaway around the many winery tasting rooms that call Grapevine home. Check out one of the wine trains or tours and make the most of your vacation to Grapevine, the city named after the wild mustang grapes that grew on the Grape Vine Prairie. And don't miss GrapeFest®, the largest wine festival in the Southwest, held in Historic Downtown Grapevine each September.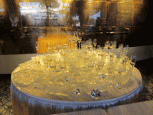 GrapeFest Tennis Classic
Presented by
Adolfson & Peterson
Date & Time: September 12, 13 & 14; 8 a.m. – until game is complete
Dove Park tennis courts, 1509 Hood Lane, Grapevine
Grapevine High School tennis courts, 3223 Mustang Drive, Grapevine
Colleyville Heritage High School tennis courts, 5401 Heritage Ave., Colleyville
Grab your racket and join us at the GrapeFest Tennis Tournament! This fun event for kids and adults alike will have multiple events over three days on September 12, 13 and 14. Entry fees include tournament participation, official GrapeFest Tennis Tournament t-shirt and admission into GrapeFest on Friday, September 12 and Saturday, September 13. The tournament will have both junior and adult events. The tournament also features Men's Open Doubles with $2,000 in prize money. Please read below for more information about each division. Players can visit www.TNTTennis.net for details on how to register.
GrapeFest Golf Classic benefiting Connect Program
Golf & Golf Tournaments
Grapevine is home to 81 holes of some of the most exciting golf in North Texas. For golf lovers, this can mean one really great vacation. No matter where you choose to stay in Grapevine, you are within a few minutes drive of a top-rated golf course. The three Grapevine golf courses hold the distinction of being ranked among the Top 50 public golf courses in the United States.
In addition, the annual GrapeFest Golf Classic tournament is the event to show off your golf moxie and network with regional golf enthusiasts. The proceeds from this foursome scramble, in early September, benefits the local scholarship fund.  It's tee time, folks.
Enjoy a complimentary shuttle to Grapevine's Wineries. Pick up and drop off at the North Entrance Gate. September 15 & 16.
Location: Outside North Entrance Gate
See cooking demonstrations and wine pairings. September 13, 14, 15 & 16
Location: Westwood Business Center 600 block of Main Street
There's fun for the whole family at the Carnival & Midway! Games, rides, festival food and more will delight all ages. Back by popular demand, the Unlimited Ride Pass is available Thursday 5 p.m. – 10:30 p.m.The Carnival & Midway are located at the intersection of Jenkins & Wall Streets.

KidZone

Presented by Baylor Regional Medical Center at Grapevine – Located at the Torian Cabin. Bring the kids to KidZone for fun, games, facepainting and more.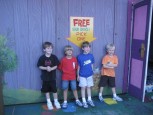 LEGOLAND® Discovery Center
LEGOLAND Discovery Center
www.LEGOLANDDiscoveryCenter.com
Grapevine Mills mall
3000 Grapevine Mills Parkway
Grapevine, Texas
469-444-3050
Click here to view the LEGOLAND Discovery Center Map.
Hours:
Monday – Friday, 10 a.m. – 8 p.m. (last admission 6 p.m.)
Saturday, 10 a.m. – 9 p.m. (last admission 7 p.m.)
Sunday, 11 a.m. – 6 p.m. (last admission 4 p.m.)
*Holiday Hours when applicable
Click here to view the LEGOLAND Discovery Center Video
Even if these snapping bricks aren't an obsession with the kids in your home, this place is still a family must. As one of several in the country, LEGOLAND Discovery Center, located at Grapevine Mills mall, is an entire attraction dedicated to the classic building bricks. This $12 million, 35,000-square-foot attraction features more than two million LEGO®  bricks, and as their brochure states, "it's like you've just jumped into the biggest box of LEGO bricks ever."
Grapevine Vintage Railroad
705 S. Main Street
Grapevine, Texas
Round Trip Grapevine to the Historic Stockyards
The train to the Stockyards operates Saturday and Sunday most weekends throughout the year. From Memorial Day to Labor Day, the Grapevine Vintage Railroad also operates on Fridays.
The train departs Grapevine at 1 p.m. and arrives in the Stockyards at approximately 2:30 p.m. The return trip departs the Stockyards at 4:15 p.m. and arrives in Grapevine at approximately 5:45 p.m.
Roundtrip tickets in the First Class enclosed heated and air conditioned coaches are: $28 for adults and $18 for children 13 months – 12 years old. Roundtrip tickets in the Touring class coaches are $20 for adults $20 and $10 for children 13 months – 12 years old. Children under 12 months ride free on the parent lap. Tickets can be purchased online at www.gvrr.com or at the depot on the day of departure located at 705 S. Main St. between the hours of 11a.m. to 12:30 p.m.
636 S. Main St Grapevine, Texas 76051 817-410-8136 VisitorInfo@GrapevineTexasUSA.co
---