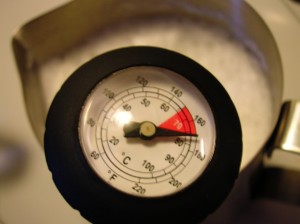 For more than three decades, Kan-Haul has used the issue of reliability as one of the cornerstones toward our commitment to customer service. This faith that our clientele has in the role we undertake as a refrigerated transportation company motivates us on a daily basis.
This particular facet of the transportation industry is one that demands maintaining proper temperatures throughout the course of any delivery. The network that virtually goes across the world is one that we've been able to establish over our time in the business and has helped establish our business as a leader in the field.
Speed Doesn't Ignore Safety or Cleanliness
We're focused on having our delivery reach its intended destination as quickly as possible. However, that doesn't mean that we ignore safety standards that are presently in place or fail to make sure that the trucks and containers we use are not held to a rigorous standard when it comes to keeping things clean.
The Ever-Expanding Market
Temperature controlled transportation has helped expand marketplaces that were once limited to a small radius due to concerns about product deliveries spoiling. That expansion continues to this day with estimates of double-digit annual increases in the amount of the overall market predicted through the end of the current decade.
Strategy is Key
The wide variety of commodities that we're able to deliver shows that we haven't simply settled on a particular niche within the industry. Still, when it comes to refrigerated transportation concerns, we make sure that specific logistics are carefully plotted out so as to make sure that every detail is taken into consideration.
Product that has to be thrown out because of compromised food costs the company sending the product in lost delivery and the company expecting it with respect to lost sales. That's why the dual components of time sensitivity and focus on temperature maintenance are paramount with our deliveries.
Attention to Detail
We make sure that proper loading procedures are undertaken, since that tends to be the point at which most temperature losses occur. In addition, the truck deliveries we make have our drivers making sure that other components of the proper protocol are followed before any delivery begins.
Technology at Your Fingertips
One of the ways that maintenance issues are handled in all areas here is through frequent checks over the course of each specific delivery. Such focus is actually a 24/7 job for us, since we offer our customers access to Loadtracker technology.
Using this, our customers can instantly get information on where their shipment is, due to the fact that our crew is continually updating information. Each day, satellite information is updated, which can be vitally important when it comes to international ocean shipments and their present whereabouts.
Such things may seem to outsiders as needless, but we know that inventory considerations may have to be potentially factored into such information. In the case of an error, it helps pinpoint exactly where the issue manifested itself.
A Choice Made Easy
The options we can offer customers when it comes to temperature controlled transportation are considered top-of-the-line, which isn't always what you can find with other companies. In addition, each pickup is prompt in order to alleviate any concerns about getting the process started.
Therefore, when the need for this type of transportation this area is integral to your success, it helps to go with a company that has the legacy, the technology and the dedication to deliver your goods. That's Kan-Haul, your best option in this department.
Reliability Through Decades of Experience
Temperature controlled transportation is about reliability. Kan-Haul offers a varied selection of solutions for your temperature specific loads, and our decades of experience and international network make us a leader in the field. Our refrigerated transportation services allow us to ship a wide variety of product, while maintaining our rigorous cleanliness and safety standards.
The Kan-Haul Benefits
If you're looking for temperature controlled trucking, look no further. Kan-Haul offers:
A wealth of experience in transportation,
Intuitive, user-friendly tracking software, LoadTracker
24/7 attention and commitment to your load
A variety of top of the line refrigerated transport options
Reliable and prompt pickup and delivery
Contact Us