December 6, 2012
Christmas Dinner Wine Pairing Guide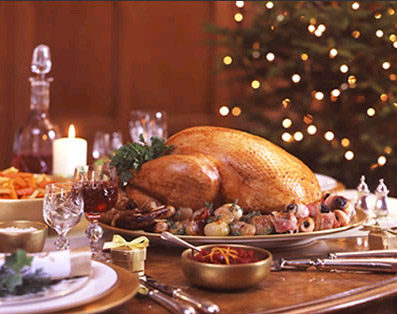 Christmas dinners present a prime time to try new wines with favorite recipes of old. Will it be ham, turkey, goose or prime rib? If you are looking for new wine options to complement your holiday meal, then look no further, check out our unique selection of versatile whites and diverse reds that are sure to enhance your Christmas gathering, varietals picked for both their presence and adaptability.
Wines to Serve with Ham
Baked, smoked, or honeyed hams beg for wines with a dash of sweet. A German Riesling with a touch of residual sugar, made lighter in style and a bit lower in alcohol will hop on the ham pairing wagon with plenty of food-friendly acidity and crowd-pleasing palate appeal. Alsatian Rieslings tend to bring more body, significantly less sugar, and a richer palate profile than their German wine cousins, and are capable of handling a wide range of pork-themed options with a wine focus on weight and pairing presence. Red wines that can accommodate ham happenings tend to be lighter in body and overall style. Beaujolais, Pinot Noir (especially from Burgundy or California's Russian River Valley), and Spain's Tempranillo grape often exhibit subtle tannins with an easier going pairing profile.
White Wines for Ham:
Riesling and Gewurztraminer
Wines to Serve with Turkey
Turkey on its own presents a fairly straight-forward pairing partner, but who really eats turkey solo? Herb-filled stuffing, roasted veggies, rich sauces, and an assortment of savory sides manage to make their way alongside the bird. It's these sides and sauces that must be taken into account when working out the best wine pairings. Sauvignon Blanc is hands-down one of the top white wine picks for turkey and savory sides, as it tends to bring its own herbal tones to the table.
Red Wines for Turkey
Pinot Noir
Zinfandel
Bejalouis Nouveau
Tempranillo
White Wines for Turkey:
Sauvignon Blanc
Viognier,
Riesling
Gewurztaminer
Wines to Serve with Duck
When it comes to pairing wines with duck, considerations have to be made for the unique, fatty profile along with the innate gaminess of the meat. The wines of France have a long and storied pairing partnership with a variety of duck preparations. As local foods paired with local wines make a trendy comeback, there's an underlying synergy between "historical" regional pairings and the red wines of Burgundy,Bordeaux,as well as the reds of the Rhone Valley will handle the elements of roasted, smoked, or braised duck. If the duck is served with a fruit-based sauce then the wine pairing gears will shift towards the white wine trails. Gewurztraminer, Riesling, and Sauternes will make their mark on the fruit-themed duck pairing profiles.
Reds to Pair with Duck:
Zinfandel,
Red Burgundy,
Tempranillo
Whites to Try with Duck:
Gewurztraminer,
Sauternes
Wines to Serve with Prime Rib
Prime rib makes a serious play for a variety of red wines. A big, bold Cabernet Sauvignon from California, a playful Lodi Zinfandel, a rustic Tempranillo from Spain, a refined red from Bordeaux, a Barbaresco or Barolo from Italy – all of these varietals can mix and mingle with a slice of prime rib and bring out subtle nuances in the pairing depending on the regional roots. White wines will have a tough time keeping up, but if you are hard pressed and must venture to the white grapes, try a full-throttle White Burgundy (Chardonnay) to keep pace with the rich textures and greater ratios of protein and fat.
Seasonal Spice and Ethnic Dishes
Christmas culinary creations from around the world add an extra layer of festive foodie fun. Whether it's exotic Asian spices, calling for the likes of Riesling, Gewurztraminer, and even an aromatic Viognier or heavy European desserts with warm spice nuances, preferring a pairing with the weight and flavor of a fortified wine like port or Madeira – there are dozens of unique pairing potentials. Keep in mind that flavor is not the only consideration to be made, but textures, spice intensity, serving sauces, weightiness and rich ingredient elements will all serve to sway a food and wine pairing potential.
And last, but not least there are choices to be made with which wines to serve with chocolate!
Tips for Successfully Pairings Wines with Chocolate

Rule #1, pairing wine and chocolate is not a straightforward pairing. It will take a bit of experimenting to find the best wine and chocolate combinations. Remember your palate impressions may be very different from those you are tasting and testing with. For some they prefer the wine to be as sweet as the chocolate, for others this causes the chocolate to take on a distinct sour note.
When pairing wines with chocolate, your best bet is to match lighter, more elegant flavored chocolates with lighter-bodied wines; likewise, the stronger the chocolate, the more full-bodied the wine should be. For example, a bittersweet chocolate tends to pair well with an intense, in-your-face California Zinfandel or even a tannin-driven Cabernet Sauvignon. The darker the chocolate the more tannins it will display. However when you pair this darker chocolate up with a wine that has stout tannins, the chocolate will often overshadow or cancel out the wine's tannins on the palate and allow more fruit to show through.
Similar to "formal" wine tasting, if you will be experimenting with several varities of chocolates, work from light to dark. Start with a more subtle white chocolate and end on a dark or bittersweet chocolate.
White Chocolate Wine Suggestions
White chocolate tends to be more mellow and buttery in flavor, making it an ideal candidate for a sherry The Sherry and Moscato d'Asti will pick up the creaminess of the chocolates and the Orange Muscat will pick up any fruit tones on the scene. Another route, for pairing wine with white chocolate is going for the contrast pairing approach, this is a little riskier, but when you find a match it can be exceptional. For example, taking a wine like a Zinfandel which tends to have a heavier tannic content and often a higher alcohol level and partnering it with a creamy, buttered white chocolate can have an unusual "melding" affect. It's like the tannins get softened out by the fat content and make for a remarkable potential for pairing.
Milk Chocolate Wine Suggestions
Pinot Noir you might consider a lighter-bodied Merlot that will complement a bar of milk chocolate, a creamy chocolate mousse or chocolate accented cheesecake. Rieslings, Muscats or dessert wines tend to hold up well to mild milk chocolates. Also consider a sparkling wine or Champagne  for pairing with milk chocolate dipped strawberries. Last, but not least a classic milk chocolate pairing to consider is a nice Ruby Port – a very safe bet when looking for a perfect wine to accent milk chocolate.
Dark Chocolate Wine Suggestions
Dark or bittersweet chocolates need a wine that offers a roasted, slightly robust flavor itself, with perhaps a hint of its own chocolate notes. Cabs and Zinfandels have a history of perfecting the dark chocolate match, resulting in an unparalleled tasting combination. A Cabernet Sauvignon or a Zinfandel will more than fill your chocolate pairing expectations. Also consider a Pinot Noir or a Merlot  to handle dark chocolate around the 55% cocoa mark. Finally, give a Tawny or Vintage Port a go to offer a very well balanced pairing approach to a dark chocolate dessert or truffle.
The Do it Yourself Approach to Pairing Wines and Chocolate
If you are looking for an easy and inexpensive, Do-it-Yourself way to experiment with wine and chocolate pairings, simply picking up a few bars of Green and Black's  premium chocolate is a good way to start. By taking a "mix and match" approach to finding your own personal palate preferences when it comes to pairing wine and chocolate, you'll gain "hands-on" knowledge of which wines really complement which chocolate combinations. By opening eight bars of Green & Black's chocolate along with a few bottles of wine we were able to take each chocolate through a series of wine pairings to see which combinations rose to the top. This is just a starting point, the combinations could be almost unlimited when you start to shake up not only varietals, but vintages and producers with the more than a dozen chocolate bars made by Green & Black's.
Merry Christmas Y'ALL!
---