March 20, 2013
Kosher Wines for the Seder Table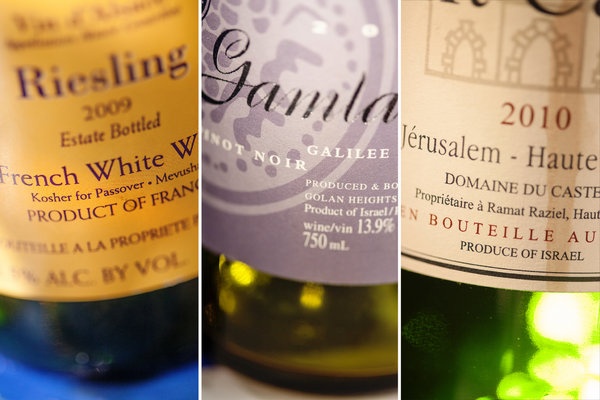 TO THE FOUR QUESTIONS that form the basis of the Seder, wine lovers habitually add a fifth: where is it written that kosher wine must be sweet, thick and unpalatable? Though some Jews retain a sentimental attachment to the jamlike pleasures of Concord grape wines, many desire something better. Much better.
Fortunately, many years have passed since observant Jews were compelled to subject themselves to the plague of bad wine. Now, the kosher choices are vast and the quality fairly high. The Haggadah, the special book that tells the story of Passover and gives directions for the Seder, calls for four cups of wine with the meal. With what I easily found in stores, I could plan a Seder with one sparkling, one white, one red and one fortified without straying from the kosher path.
As a sherry lover, I was thrilled to discover a kosher version of Tío Pepe, a classic fino. At the Seder, a dish of saltwater is traditionally placed on the table, a reminder of the Red Sea, which the Israelites crossed in their escape from Egypt, and of the tears of slavery. I would like to think that drinking a good fino like Tío Pepe, with its tangy, saline flavors, might likewise be an excellent method of reinforcing this association.
Wine at the Seder table symbolizes the joy of life, and no wine does this better than sparkling wine. Why not Champagne at a ceremonial gathering of family and friends? The Drappier Carte d'Or, a straightforward nonvintage Champagne that is both amply fruity and engagingly light, comes in a kosher version that is highly satisfying, except perhaps for the price. I paid $60 for it, about 10 percent more than for the nonkosher version, which is not atypical. I could have found other Champagnes, like Louis de Sacy or Laurent-Perrier, but they would have cost even more.
Cava is a less expensive sparkling alternative, and I found a very pleasant kosher version, Elvi Adar Brut, for $21. It was light and easy to drink, without the body or sumptuousness of Champagne, but refreshing nonetheless.
For a white, I would look to California, where Covenant makes an elegant, substantial sauvignon blanc from the Dry Creek Valley for $23. Covenant, by the way, also makes a very good Napa Valley cabernet sauvignon, though, priced in the way of many Napa cabernets, it runs close to $100 a bottle.
Choices for reds seem far more extensive than for whites. Israel, which has a dynamic young wine industry, now makes a fine range of reds, most of which are kosher. Good kosher reds are available from many historic wine regions in France and Italy, too, and from California. For my money, the best intersection of price and quality came from Spain: a lovely, spicy, earthy Montsant from Celler de Capçanes for $20.
These were among a dozen favorites at a wide range of prices I found when surveying the New York area, where many shops cater to observant Jews. Astor Wines and Spirits in Greenwich Village and 67 Wine on the Upper West Side, just to name two, have outstanding selections. Elsewhere in the country, especially outside the spheres of big cities, finding kosher wines may be a little more challenging. The Internet, naturally, can come to the rescue with Web sites like kosherwine.com.
What accounts for the improved kosher selection? No doubt, observant Jews tired of asking that fifth question. But beyond the rise of the modern Israeli wine industry, and the homegrown kosher wine concerns like Herzog, Hagafen and Covenant, many well-established European producers like Drappier and González Byass, producers of Tío Pepe, are offering kosher versions of their wines.
Making a kosher wine is no simple undertaking. Nathan Herzog, the executive vice president of Royal Wine, a leading producer and importer of kosher wines, said that from the time the grapes are crushed, roughly speaking, the wine must be produced and processed only by observant Jews using equipment that has been approved by rabbis. Royal, Mr. Herzog said, has a crew of six to eight who travel throughout Europe visiting established wineries to make kosher versions of their products. The procedure is even more complicated in Israel, where grape-growing must conform to a host of agricultural rules as well.
Once winemaking is complete, the wine can be issued without further processing but can be opened and poured only by an observant Jew; otherwise it loses its kosher status.
"As long as the bottle is sealed, anybody in the world can handle it," said Seth Weiser, the kosher wine specialist at 67 Wine.
This can sometimes be an issue with restaurants and caterers, who might have employees who are not observant Jews. To be extra sure, some kosher wines are flash-pasteurized, that is, heated briefly to a near-boiling point. These wines, called mevushal, can then be handled by anybody. While flash-pasteurizing does not harm a wine to the extent that the older method of boiling it did, it clearly does wine no good.
Mr. Herzog said Royal left it to the wineries to decide whether to make a mevushal wine, usually depending on whether they felt quality could be maintained. So, Drappier's Champagne is mevushal, but the Tío Pepe fino is not.
"The worst thing we can do is make a kosher wine that tastes totally different from the original," Mr. Herzog said.
Of the 12 wines I recommend, it should be noted that only two are mevushal. Meanwhile, I'm thinking ahead to Passover and the prophet Elijah, who, the legend has it, visits every home where a Seder is held. Accordingly, the tradition is to leave an extra cup of wine on the table for Elijah. This year, I think he'll appreciate some good kosher sherry.
12 KOSHER WINES WORTH SEEKING OUT
González Byass Fino Tío Pepe
$20
Tío Pepe is one of the most popular fino sherries, and this kosher version is just as good as the original — dry, pure, tangy and refreshing, with savory, saline flavors. Sherry may not be traditionally associated with Passover, but why not? (Royal Wine, New York)
Elvi Cava Adar Brut NV
$21
Pleasant, though assuredly not profound. Fine and airy with light citrus flavors and, at just 11.5 percent alcohol, it goes down easily. (Royal Wine)
Drappier Champagne Brut Carte d'Or NV (Mevushal)
$60
Elegant, with plenty of fruit flavor but finesse as well. From the Aube region in the south of the greater Champagne area, and made largely of the pinot noir grape. (Royal Wine)
Abarbanel Vin d'Alsace Riesling 2009 (Mevushal)
$21
Abarbanel makes many different kosher wines from Alsace. This riesling is floral and earthy, more savory than fruity. Though 2009 was a ripe vintage, this is quite dry and delectable. (Admiral Wines, Cedar Grove, N.J.)
Covenant Red C Sauvignon Blanc Dry Creek Valley Allan Nelson Vineyard 2011
$23
Jeff Morgan, a former wine writer, makes a variety of fine kosher wines. This sauvignon blanc is low-key and elegant, with citrus, mineral and tropical fruit flavors. It's substantial but not heavy.
Gamla Galilee Pinot Noir 2007
$18
Gamla is part of Golan Heights Winery, one of Israel's leading producers. This pinot noir, made of grapes grown in Galilee in the north, is light and generously fruity but not sweet or overbearing. Very easy to drink. (Royal Wine)
Terra di Seta Chianti Classico Pellegrini Della Seta 2008
$16
Terra di Seta claims says it is the only completely kosher winery in Tuscany. This Chianti is very good, with dry, dusty flavors of bitter cherry. If it seems a bit austere, perhaps that's the effect of 5 percent cabernet sauvignon, blended with 95 percent sangiovese. (Royal Wine)
Château Fourcas Dupré Listrac-Médoc 2007
$33
Not a bad Médoc at all, lightly fruity yet structured with gravelly accents and discernible tannins. Accessible nonetheless. It cries out for lamb. (Royal Wine)
Celler de Capçanes Montsant Peraj Petita 2010
$20
This wine from the Montsant, a Catalonian region in northeastern Spain, is made mostly of garnacha, or grenache, with some carignan and tempranillo. It's lively and lightly tannic, with lovely, spicy, earthy flavors. (Royal Wine)
Segal's Galil Cabernet Sauvignon Unfiltered 2007
$75
A modern cabernet sauvignon that is as lush and ripe as anything from Napa Valley. Luxurious and tannic yet well-balanced, with a cushioning of oak. (Royal Wine)
Yatir Forest Judean Hills 2009
$85
This Bordeaux blend is 49 percent cabernet sauvignon, 10 percent merlot and an unusual 41 percent petit verdot. It's ripe and mouth-filling, yet is complex and elegant. (Royal Wine)
Domaine du Castel Judean Hills Petit Castel 2010
$50
Fruity, well-structured and complex, 50 percent cabernet sauvignon, 45 percent merlot, 5 percent petit verdot. This highly polished Bordeaux blend belies its 15 percent alcohol heft. (Royal Wine)
A version of this review appeared in print on March 20, 2013, on page D4 of the New York edition with the headline: Less Sweetness, More Joy on the Seder Wine List.
---