November 14, 2012
World-class grapes? There's an app for that.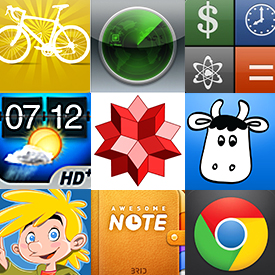 Is an iPhone at home in the vineyard? A growing number of people in the wine industry say yes, calling mobile Internet service and data collection as essential to grape growers as trellises and irrigation pipes.
At this week's biannual Viticulture Fair at the Napa Valley Expo, several makers of systems tying mobile devices and databases showed their wares inside Chardonnay Hall. While some of the companies have pitched the benefits of computer-guided management to grape growers for a decade or more, the growing popularity of smartphones has brought pocket-size Web access to millions, and with it the chance to make quicker decisions on watering and harvesting — on smaller plots of land — than before.
Data tracking systems for the vineyard are meant to help growers keep a closer, more frequent watch over more acres than before, and in greater depth — sometimes literally so, as with programs measuring water penetration and drying of the soil.
"You have instant access to your data," said Rob Wood, founder of the Pleasanton-based iCropTrak, whose field-data systems match pesticide use, soil conditions, fertilizer application and other data to online maps on iPhones and iPad tablets.
"If you're looking to schedule spray operations, you have access to the whole spraying history of your vineyard. You can see what worked in the past and what didn't work, and schedule things according to the condition of the crop at that time."
Another system by Meristem Technologies, a Sonoma company, includes handheld devices to enter field information on such items as pruning, sugar levels and fruit weight to be passed to online servers, then converted to charts and maps.
In times of scant rainfall or other unfriendly growing conditions, having convenient and precise knowledge of vineyard conditions can help a grower make quicker calls on watering or other steps, according to Meristem co-partner Mike Bobbitt.
"Irrigation decisions become more critical in a tough year, for example," he said. "So they'll have better information to make decisions faster. If there's a pest or disease, the people who make the decisions can react faster. … With pen and paper, the info has to be touched many times before it gets to whoever needs it. All those time savings can be (put to) collecting more information and making better, faster decisions."
While many computerized vineyard systems keep track of soil and weather conditions, others are meant to help growers streamline their daily business — and even stay within the law.
A data collection system developed by AgCode Inc. of Minnesota enables smartphones and tablet computers to track farm workers' hours, piecework such as vine pruning, and water consumption in various parts of a vineyard. Such top-down control can help a grower avoid falling into wage violations with a shifting work force, or putting their state water allotments at risk from overuse, according to AgCode founder Dion Harste.
"It's become more acceptable, because the iPhone makes the average guy amenable to using it," he said. "The idea of data synching has become that much more simplified."
The ability to quickly beam on-the-ground data from vineyards is a boon even to professional analysts, according to Alex Roser, vineyard manager for Advanced Viticulture Inc. The Windsor-based consulting firm analyzes soil composition and vine health using ground probes and leaf barometers, which relay their data through solar-powered cellular transmitters.
A constant flow of information allows clients a level of water efficiency — and a better growing pattern for vines — not as easily attainable before,, he said.
"You're not over watering; you're giving the vines what they need without waste," said Roser, standing by one of the company's pole-mounted data stations. "Then the vine's not focused on taking in so much water and overgrowing, but instead puts its energy into growing the fruit."
At a far corner of Chardonnay Hall, fairgoers glanced at a further evolution of a trend — a coat-tree-like weather station combining a thermometer, humidity gauge, rain gauge and wind-speed reader, with a radio transmitter on top to send the information to a grower's phone or tablet computer.
The multipurpose device is the heart of a system sold by Ranch Systems LLC, a Novato firm whose systems oversee weather monitoring, soil moisture, irrigation and water supplies. Updates from each base station can be delivered to a computer or phone browser as often as every five minutes, and factors like water penetration and ground moisture can be tracked over the course of a growing season — telling growers when to reduce watering to promote deeper roots or concentration of grape sugars.
For all the shiny modernity of folding smartphones and servers into the process, Ranch Systems founder Jacob Christfort said the technology simply helps growers in a traditional task: understanding the terroir, the character of the different soils where grapes grow.
"In the wine business, terroir is everything," he said. "You want to know how the soil responds to you. You need this data to verify where the roots are, how deep they are, that you're not over watering them.
"You can't manage what you can't measure. You can't be comfortable changing anything if you don't know exactly what's going on."
---