August 17, 2022
5 Reasons Why Using Flexitanks is Important in Bulk Liquid Transportation of your Orange Juice Products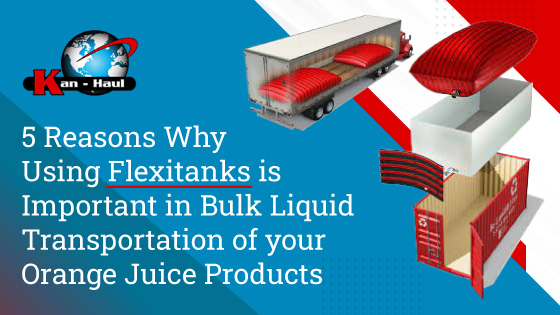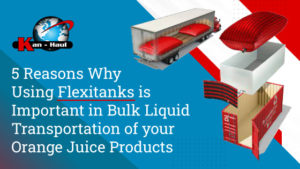 Orange juice transportation can be challenging. You have to keep it cool, ensure that it's moved quickly from one destination to another, and most importantly, secure that its freshness and quality are preserved.
Are you still shipping your products the traditional way? Are you using drums or barrels packed in refrigerated containers? Do you aim to cut your bulk liquid transportation and production costs by 20% while keeping the premium quality orange juice product you have? Read further to see how Kan Haul Flexitank services can help you in your business.
What is a Flexitank?
Flexitank or "flexibags" is a bulk liquid container used in a shipping container. It is a flexible and easy-to-use container used for efficient bulk liquid transport. Flexitanks transform the conventional shipping container from a dry goods carrier into a safe container for shipping juices, oils, food-grade liquids, and nonhazardous chemicals around the world.
These are five reasons why you should consider Flexitanks in your liquid bulk transport:
1. Save money
Flexitanks are one-use-only containers. It is ideal for food-grade items like your orange juice. Flexitanks will help you save tons of money in the long run. It will also ensure you are stress-free, knowing that your orange juice is clean and safe for consumption. Plus, you don't need to spend extra bucks on cleaning or finding a space to store them – it's immediately recycled once emptied.
2. Ecofriendly Shipping Option
Using flexitanks for your orange juice transportation is more sustainable. It is recycled once it is used for liquid bulk transport. This way, you can also be confident that there will be no cross contamination in your deliveries. At Kan-Haul, our flexitanks use layers of FDA-approved 100% virgin VLDPE polyethylene. This durable resin delivers an excellent performance, so you'll have peace of mind when your orange juice is in transit. Moreover, polyethylene can also be reprocessed to manufacture new items. By using flexitanks, you are investing in an innovative technology that lets you offset your carbon footprint and allows you to contribute to making the Earth a livable space for future generations.
3. Ships larger quantities than Intermediate Bulk Containers (IBCs) and Barrels
Unlike IBCs and Barrels, flexitanks do not consume much space, and the container doesn't add too much weight to the truckload. With this, flexitanks can transport 44% more liquid in each container than barrels or drums. It can also deliver 15% more compared to IBC totes.
On average, one flexitank can hold up to 24,000 liters of orange juice. To transport the same amount using barrels, you will need about 85 of them. Besides this, you will have to consider if your truck can safely hold the weight of 85 barrels and juice combined.
4. Easy to load up
Barrels require you to have a lot of manpower for them to get filled up and loaded into the truck. With flexitanks, you're finally saying bye to this time-consuming and costly way of bulk liquid transport. All you need to do is lay the flexitank properly on the bottom of the container and connect the hoses for loading and unloading.
5. Can be kept at the right temperature
Designed to preserve the freshness and quality of your orange juice, Flexitanks are insulated. It can help control temperature variations while your orange juice is in transit. By reducing temperature fluctuations, the shelf life of your orange juice is improved. More importantly, flexitanks will help keep the product in the best condition possible while on the road.
There you have it! Flexitanks make bulk liquid transportation easy and efficient. It can help you save on transportation and production costs because of its capacity to ship larger quantities in one go. It's also an eco-friendly shipping option that keeps your orange juice at the ideal temperature. Plus, it is easy to load and unload. With these benefits, you can lessen your business expenditures while maximizing revenue potential and ensuring the freshness of your orange juice.
Are you interested in making the switch from using barrels to flexitanks? Are you ready to save more while earning more? If you're ready to transport your orange juice using flexitanks, Kan-Haul is here to help you.
Why Choose Kan-Haul?
Here at Kan-Haul, we're on a mission to give you a reliable flexitank for orange juice transportation and shipping other liquid items. We have over 30 years of specialization in liquid food products transportation for the domestic and international markets.
As a logistics leader, we give you timely and reliable delivery and unsurpassed safety and food handling procedures. Trust that with our industry experience, we will be your partner in growing your business. Contact us now for your bulk liquid transportation needs and we would be happy to help you!
---