January 24, 2022
How to Properly Load and Offload Your Flexitank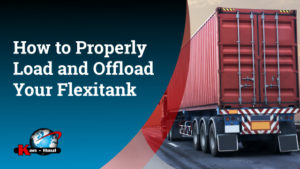 A flexitank (flexibag) is a light bladder constructed from polyethylene with a carrying capacity of up to 24,000 that's fitted on a 20-foot dry container. Flexibags are restricted to non-dangerous liquid products and are intended for single use. In the past, the damage of flexitanks resulted in the loss of cargo, which was mainly attributed to inappropriate handling.
Such incidences have reduced significantly over the years thanks to the improvements in the bag's construction and improved loading and unloading practices. Statistics show that the flexitank transportation market is expected to reach USD 912 million by 2023, with some of the main drivers being non-hazardous chemicals and food-grade liquids.
This guide details the best practices and loading instructions for top and bottom discharge flexitanks.
Best Practices to Consider When Transporting, Loading and Unloading Flexitanks
Using flexitank transport to move your wine and other food-grade liquid helps to protect them against oxidation and contamination. This means that you can be confident that your liquid will reach your intended location in a pristine state.
However, you need to handle them meticulously for the best results. That said, here are the best practices to consider as you load, transport, and unload flexitanks.
Loading Your Flexitanks
There are different vital steps to consider when loading flexitanks. Here are a few you should know.
Use Dedicated Hoses – Before you load liquid in your flexitank, be sure to use hoses that were appropriately cleaned and only designed for loading the product you're transporting. It's also advisable to shut the left door of the container before you start filling and ensure that the valves are in the proper position.

Set Up the Filling Hose Correctly – When setting up your hose, ensure it's fitted correctly, as this puts less stress on your valve. So, when mounting your hose support, ensure that it's on the same level as your valve. This doesn't just avoid strain on your valve but also coupling. Remember that gases can affect the quality of liquid products like wine, so ensure that your filler doesn't allow gases into the flexitank before and after filling.

Start Your Filling At A Low Rate – When filling your flexitank, begin with a filling rate of 200 liters in a minute. You can increase this rate to 700 liters in a minute after your first 2,000 liters. Remember that you should never exceed 1,000 liters per minute. Also, adhere to the filling capacity recommended by the manufacturer – don't underfill or overfill a flexitank.
Transporting Your Flexitank
There are necessary checks not to overlook when transporting liquefied products using flexitanks.
Install A Spillage Mechanism–  When transporting your products, you can avoid spillages by installing a spillage mechanism. In addition, such a mechanism will help you inspect for leakages before you secure your container and begin your journey.

Secure Your Flexitank – You should ensure that the vehicle you use to transport flexitanks is fitted with wheel chocks as it ensures less movement of your liquid. When your liquid moves less frequently, it will arrive at the intended destination in an excellent condition
Unloading Your Flexitank
Have Spill Prevention Mechanism – When unloading your liquefied products, consider using drip trays, among other mechanisms, to help avoid wastage. Don't forget to start by opening the right-side door of your container. Keep the left side door closed until your flexitank is almost empty. After unloading, remove any markings on the container, showing that it's safe for subsequent use.
Essential Considerations When Loading Your Top and Bottom Discharge Flexitank
Ensure that you load top and bottom discharge flexitanks safely and systematically for efficient and cost-effective transportation to your destination. Here are the instructions to follow when doing so.
When installing your flexitank, ensure that it's fastened to all corners of the container.

Check your flexibag capacity and fill it to the recommended capacity. The maximum you can under or overfill your tank is 2%.

Open the tanks valve by removing the safety cap and locking pin, then pull the valve's lever outwards. Ensure that you fit the loading hose coupling into the valve. When it comes to bottom discharge flexitanks, ensure that the loading hose is correctly supported as this prevents the downward pulling on the flexitank.

When your flexibag is full, move your hose so that it's not trapped between the flexitank and container's sidewall.

Close your valve, turn your pump off and fit a locking pin in the handle. Don't forget to drain and clean any remaining products from your hose, then clean your valve properly. Additionally, ensure that a warning label is placed on the left door of the container.
Transport Your Liquid Products Efficiently With Flexitanks
Flexitanks are a convenient way to transport your wine, vegetable oil, or bulk food-grade liquefied products. There are safety standards that can ensure proper transportation, loading, and offloading of your products, and this guide has shared this information in detail.
If you're tired of unreliable methods of transporting liquid products, you can trust us to help you move your products efficiently using flexitanks. Contact us today and we can help you make your transportation needs a reality.
---