March 15, 2015
An Intro to Flexi-Tanks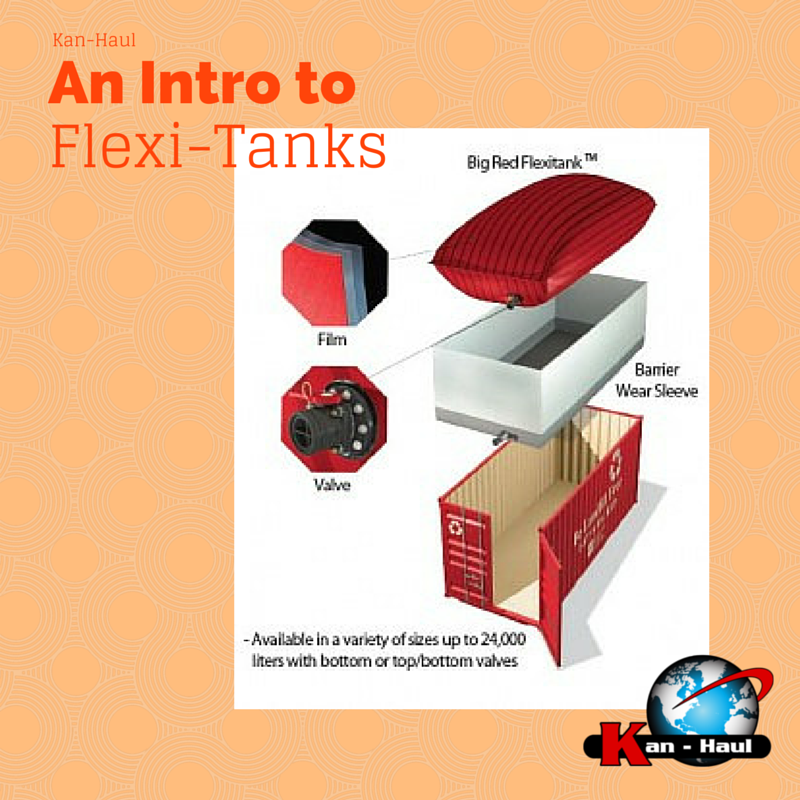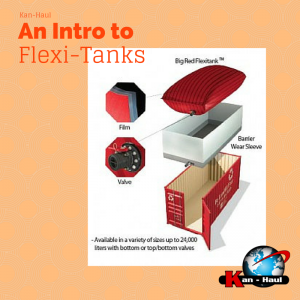 Are you curious about the materials used for bulk liquid transportation? As a business owner, your top priority is quality control. However, when you choose the newer methods of shipping large amounts of your liquid product overseas or locally, you may feel that sense of being able to control quality is slipping. One of the best  in modernized bulk liquid transportation is the use of flexible tanks.
Why You Need Liquid Food Tanks
We all know the drill: A single broken bottle on a pallet means the remaining products on the pallet are junked. One of the main issues with overseas shipment of liquids is the inability to control the comfort of the ride. In some cases, using expensive shipping materials to carefully wrap each of your products in a bubble is the only solution. For other companies, they find that their profits increase when they skip the extra shipping packaging and choose a liquid food tank instead.
While the long-haul shipping that companies like Kan-Haul provide are typically smooth sailing, once your product reaches its city of destination, the number of returned pallets of product can increase dramatically. For instance, if you use glass bottles to store your products, it is safer and more profitable for them to be bottled and packed in bulk at the distributor's hub in the destination city. In essence, by using products like Flexi Tank to ship, you end up with more finalized sales and fewer broken, unsellable crates.
The Journey That Bulk Liquids Make
Valuable, consumable liquids like juices, wine, alcohol and vegetable oils are well-known for taking long trips around the world. On the journey, they must be kept at ideal temperatures and the container they are in must maintain its integrity. This is usually facilitated with pricey outfitting in specially designed freighter equipment like big rig trucks and international reefers, 40-foot or intermodal containers. Instead of being shipped for miles in their shelf-ready packaging, the liquids can be shipped in bulk inside a large tank bladder and get packaged once they reach the port.
Well-researched tanks maintain quality control
Time and time again, business owners that ship bulk liquid products overseas have met their shipment at its destination, taken a taste, and found that liquid food carriers maintain the quality that they need. This system has been perfected over the years with careful development, research and design teams to give products the traveling integrity that is necessary to withstand the demanding nature of being shipped by sea, road, or sea freighter.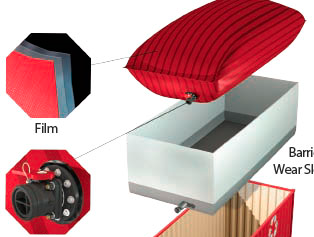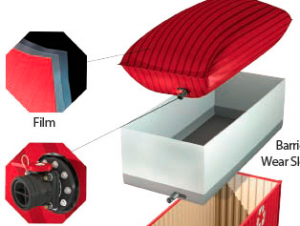 Shipping Benefits of Flexible Liquid Transport Tanks
Behind-the-scenes, your transportation and logistics can be costing you a bundle. One of the benefits of a flexible liquid tank design for transportation is that you can save some costs on equipment and rentals. For example, these flexible tanks are easy to load and therefore does not require a forklift. You can also save on labor because it does not take very much time to load the product for shipment. In the past, you may not have been able to put much product inside of a 20-foot transportation container, But now the same size can be used as a 24-ton bulk liquid hauler.
Other Advantages to Flexible Liquid Transport Tanks
When you buy products like BIG Red Flexitank, you will find that they are more affordable than competitors, but contains extra benefits. For instance, the Flexitank is globally recognized with institutions and organizations that test our materials. Flexitank is also in compliance with the US manufacturing and quality control standards associated with ISO 9001:2008. As far as performance, safety and durability factors, BIG Red Flexitank is definitely a cut above the competition.
High-End International and Domestic Shipping Starts Here
When you have a top-of-the-line liquid product that need a gentle touch to ensure it tastes just like the product at your home factory, we have the shipping services you have been looking for. We help you bring top-quality wines, liquors, sauces, juices and vegetable oils to all corners of the globe. If there is a port that will accept shipments from America, we can ensure your product has the best chances of arriving with fewer problems than you have had with traditional international and domestic liquid shipping in the past. To get a better understanding of our unique relationship with Flexi Tanks' flexible liquid transportation tanks and how we can help you with other liquid shipping needs, give us a call. We look forward to having you as a customer and we thank you in advance for your business.
---