July 12, 2013
Shipping, Logistics and Freight, Oh my!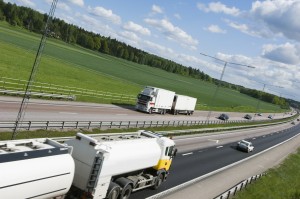 We thought we'd use this post as an opportunity to differentiate between a few terms that seem similar, but have different meanings.
Shipping:
Shipping is defined as the act of transporting a specified quantity of goods or cargo. The initial connotation of the term revolved around transporting merchandise via ships, but has since been broadened to include other modes of transportation. In today's world shipments are routinely made via numerous transportation methods, including motor carrier, railroads, air, water, and multi-modal systems.
Logistics:
Logistics is a broad term that encompasses the management of various work processes involving the flow of resources from an origin point to end user consumption. Examples of business logistics processes include inbound raw material purchasing and shipping, raw material storage, packaging, finished product warehousing, end user ordering systems, and outbound transportation shipment management. An efficient logistics network also relies heavily on quality information management systems, including raw material demand forecasting, inbound and outbound shipment tracking, and sophisticated systems that track and forecast demand signals from customers. Today's logisticians are trained to take a total system view of the critical measures of the supply chain and often utilize sophisticated modeling software to optimize the various components. World class companies always excel at supply chain management and use it as a a competitive advantage in the marketplace.
Freight:
Freight is simply a term that defines a collection of goods shipped for commercial purposes. As one can imagine, all freight isn't created equal. There are eighteen separate classifications as identified in the National Motor Freight Classification (NMFC) system. Product is classified according to several key factors, including weight, height and length, simplicity of handling, density, and the value of the cargo. Generally the lowest cost cargo is easily handled via standard pallets, shrink wrapped to minimize damage, and is of relatively low value. High value, lower density cargo will usually result in the highest transportation cost. Shippers must be vigilant to ensure their goods are being properly classified to obtain most favorable freight transportation rates and discounts.
Trucking:
Trucking is a transportation mode that ships cargo over the road via a heavy motor vehicle. Most North American trucking companies are usually identified as less than truckload (LTL) or truckload (TL) carriers. LTL carriers specialize in smaller shipments of less than 7,000 pounds, and employ trailer fleets ranging from 28 feet to 53 feet in length. The smaller trailers are typically used in the tight spaces of major cities and residential areas. LTL carriers attempt to combine shipments from different shippers with similar destination profiles in order to maximize cost savings. Truckload carriers usually transport shipments of high weight or cube to single destinations. Most truckload carriers differentiate their operations by length of haul, with shorter runs being handled by dedicated regional equipment and long haul drivers moving loads over 500 miles.
We'd love to hear from you, please feel free to get in touch if you have any questions
Contact Us
---