February 22, 2022
Important Factors to Consider for Refrigerated Transportation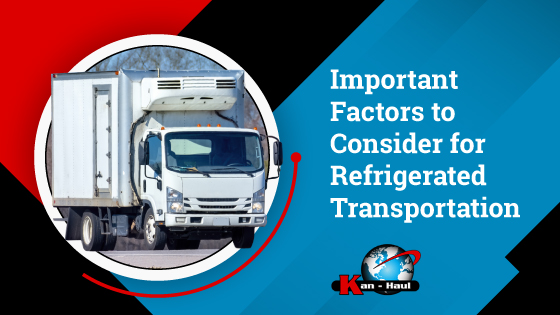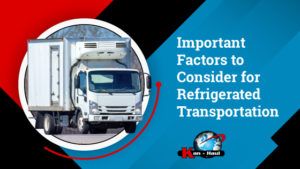 The shelves inside supermarkets are continuously stocked and restocked with fresh produce and food products sourced from all over the world. All of this is made possible thanks to modern technology in the form of refrigerated transportation.
But the industry of refrigerated transport is more complex than most people might realize. You have to make numerous considerations to ensure that perishable goods can travel safely and securely without spoilage from point A to point B.
Read on to learn more about the most critical factors to consider in the refrigerated transportation of perishable goods.
Pre-Cooling
Cargo pre-cooling is crucial in preserving the shelf life of perishable goods during transport. Because most refrigerated systems are designed to maintain, and not lower, temperatures inside, pre-cooling your cargo avoids placing strain on the refrigeration system. This helps prevent any possible breakdowns along the way that could lead to product spoilage.
When choosing a refrigerated transport provider, ask about loading procedures and what protocols they follow to avoid compromising the integrity of the products. These include the pre-cooling of cargo and containers for adequate temperature control.
Transport Requirements of Product
To ensure the safe and smooth transport of food items, you will need to communicate all helpful information about the product to your transport provider, and the procedures involved for its transport. There cannot be any guesswork involved in this process so that ample control measures remain in place to secure the product's integrity and quality during transport.
The required pieces of information required include:
Mode of Transport: Choose an appropriate mode of transport to strike the perfect balance between the security of goods transported and the costs involved in shipping. Over-the-road transportation through trailer trucks and refrigerated vans offers the most flexibility for cross-country transport of goods, while refrigerated railway containers are more direct. For international shipments, air freight offers the best lead-time, but ocean freight is more sustainable and can allow for much larger shipments.
Temperature Requirements: Perishable goods have varying temperature requirements. Make sure to communicate the temperature needs of the product properly, as well as the proper protocols to follow if issues arise during transit.
Tolerable Transit Time: Even during temperature controlled transportation, time is always of the essence since any delays could prove costly. Before proceeding with any shipment, make your expectations of the transit time of your products clear from the start. Include a tolerable period of time just in case there are any delays.
Packaging: Discuss any requirements in terms of packaging with your transportation provider. If special packaging is necessary on your end, make sure to provide details and instructions on how they should be handled.
Other Food Safety Requirements: Provide your transport provider with details on your food product, especially if it has food safety requirements that are unique to your product.
Compliance with Laws and Regulations
The quality and safety of perishable goods, including produce, food products, and medicine, are protected by laws and standards set by governments and regulatory bodies.
These include organizations such as the Global Cold Chain Alliance and the International Road Transport Union, who impose minimum sanitary conditions and driver training standards.
It is vital that your temperature-controlled transportation provider remains aware of these standards and complies with them to completely protect the integrity of your products and avoid any issues during transport.
Clear Lines of Communication
Lines of communication between all parties involved have to be established early on. The shipper and transport provider must communicate the expectations and requirements that must be met.
The transport provider must also provide status updates during transit to ensure that all conditions are maintained. In case of any issues with the container or the temperature monitoring device, the shipper has to be informed right away while seeking alternative solutions.
In many instances, spoilage has been observed at the buyer's facility despite maintaining proper conditions during transit. This is due to mishandling and improper storage that stems from a lack of instruction on properly storing and handling the goods upon arrival.
For this reason, proper instructions have to be communicated to the buyer prior to shipment arrival to avoid such issues.
Contingency Plans
Aside from the conditions inside the transport vehicle and its driver, every other aspect of the transportation industry is outside your control.
Factors such as the weather, traffic conditions, or potential mechanical damages are unpredictable and may or may not always work in your favor.
Having contingencies in place is a good practice to mitigate any losses when unanticipated circumstances do arise.
Qualifications of Transporter
One of the most significant considerations is your choice of transportation provider. It is of utmost importance that your transporter has the certifications and necessary qualities to ensure that your perishable goods are handled and managed the right way. When searching for a transportation provider, look for the following:
Experience: Before choosing a transporter, you must be able to verify their experience. But more importantly, you want to go with a company that not only has experience in hauling your specific product but is also able to guarantee its safety during transit.
Expertise: The transportation of food requires expertise that not all companies are equipped to handle. Aside from the actual transport of food items, a transportation company must be well-equipped to maintain the necessary conditions during transport while also well-versed in the nuances inherent in the delivery of refrigerated food items.
Track Record: It is paramount that you choose a company with a reputation for reliability. In this regard, it helps to do your due diligence and look at different sources to gauge whether a company can handle your requirements. This may include checking out their website, reading case histories, and reading online reviews.
Efficient Transport Solutions Courtesy of Kan-Haul
When it comes to temperature controlled transportation, go with a company with a proven track record of reliability and a reputation for quality service.
Kan-Haul offers efficient transport solutions that ensure the integrity of your products by following strict industry standards as well as guidelines provided by the Food Safety Modernization Act (FSMA) of the United States Food and Drug Administration (US FDA). Our decades of experience in the transportation industry and international network enables us to provide unmatched quality service.
Explore the wealth of temperature controlled solutions we offer or contact us here to learn more about our other hauling services.
---