June 21, 2022
What Can Be Transported In A Flexitank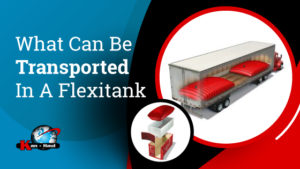 A flexitank provides a better option for bulk liquid transportation of non-hazardous liquids. Compared to other transport containers, it doesn't require special machinery, making it more cost-effective. In addition, you can load and unload liquid cargo quickly using flexitanks.
Types of Cargo That Can Be Transported Using Flexitanks
Most types of non-hazardous liquid commodities can be transported in a flexitank. Included in this category are non-edible and food-grade liquids. To determine whether a specific kind of liquid can be stored and transported in a flexitank, one must review the cargo's material safety data sheet (MSDS).
Liquid products that have been assigned a North America number (NA) or a United Nations number (UN) are deemed hazardous and can't be stored in a flexitank. Most regulated liquids are included in this category. Further, the MSDS should indicate "non-regulated material" under the transportation section if the fluid can be transported.
Below, we've listed some of the non-edible liquids that you can transport using a flexitank:
Waxes
Emulsions
Herbicides
Fertilizers
Heating oil
Diesel
Gasoline
Paints
Liquid detergents
Transformer oils
Non-hazardous chemicals
Printing ink
Lubricants
The list below includes food-grade liquids approved for flexitank transportation:
Corn syrup
Drinking water
Edible oils
Concentrates
Tomato paste
Fruit juices
Fish oils
Coconut oil
Vegetable oils
Palm oil
Alcohol
Wine
Water
Liquid sugar
Milk
Types of Flexitanks
There are two basic types of flexitanks, and each have their uses and applications:
Transport: A transport flexitank is designed for single use only and can be loaded and unloaded quickly.
Storage: Storage flexitanks can be used multiple times and primarily for long-term storage. These tanks are used when a liquid product requires longer storage durations.
Advantages of Using a Flexitank
Flexitank transportation offers several benefits. They're a better choice compared to other drums and other types of ISO containers. The benefits you can get from them range from economic to environmental applications:
Flexitanks are a cost-effective solution
They're ideal for storing and transporting bulk quantities of liquid
They protect the value and quality of the fluids being transported
The material construction of a flexitank can resist a wide range of non-hazardous liquids
Flexitanks can be recycled and reused for other purposes
These transport tanks have a higher shape, material, and design tolerance
They allow for a zero-waste type of shipping
Flexitanks reduce a company's operating costs
Allows you to transport higher volumes of liquid products
They're perfect for use with 20-foot containers
These tanks are beneficial to the environment
Flexitank Applications
Flexitanks are incredibly flexible and have a wide range of capacities ranging from 50 liters of fluid to a massive 26 tons. Therefore, compared to other types of containers, a flexitank can offer a better capacity-to-weight ratio.
After the contents have been emptied or transferred, a flexitank can shrink, thus occupying less space for post-transport storage. They're ideal for bulk liquid transportation due to their higher capacities.
The following are the most common transport application of a flexitank:
Fuel Transport and Storage
Flexitanks are an excellent option for transporting fuel such as oil and diesel. They can be coated with a protective lining to ensure the safety of their flammable contents.
Food-Grade Liquid Transportation
These bulk containers are incredibly safe and ideally suited for storing and transporting food-grade liquids. You can use them to mass transport syrups, juices, wine, milk, and others. In addition, flexitanks can be coated with a specialized coating to prevent microbial contamination. These coating materials are made from approved food-grade materials.
Water Storage and Transportation
Flexitanks can be used to transport drinkable water across long distances. These have disaster relief uses and emergency operations where water is badly needed. They can be transported with utmost ease requiring minimal amounts of space.
Industrial Chemical Storage and Transportation
This is one of the major applications of flexitanks across different industries. Flexitanks are often used to store and transport liquid latex, paints, detergents, lubricants, and fertilizers.
Single-Use Transportation
Flexitank containers are an excellent option for temporary and short-term single-use transportation. In addition, they can reduce overall transportation costs compared to composite steel tanks.
Why You Should Use Flexitanks
A flexitank is the better choice when transporting liquid non-hazardous goods. Since they're easy to fill and unload, they allow you to move contents faster. In addition, their air and water-proof properties make them ideal for transporting food-grade liquids and pharmaceutical ingredients.
Because a flexitank is designed for one-time use, you can reduce transportation risks. Because of this feature, you can effectively mitigate any risk of contamination because each tank will only contain one type of fluid. Flexitanks also improve your shipping capacity by 40 percent. This is because they have a much larger transport capacity compared to other types of liquid containers.
Are you in need of efficient transport options for food-grade and non-edible liquids? Kan-Haul is a leading provider of bulk transportation services across different industries. We have decades-long logistics experience providing reliable solutions for different businesses.
To learn more about our flexitank transportation services, fill out this form today to learn how we can best help you.
---