April 28, 2021
Emerging Trends in the Bulk Liquid Transportation Industry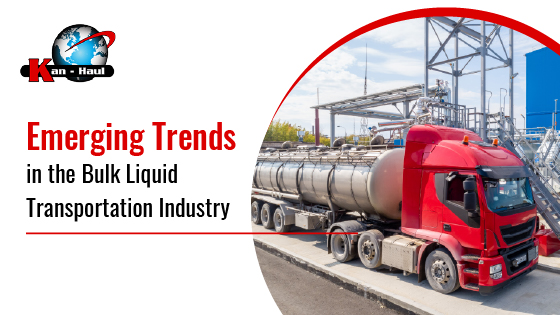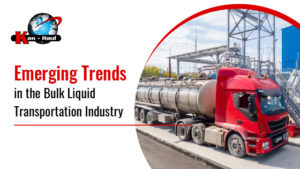 If your company deals with bulk liquids, you know how important it is to partner with a reliable bulk liquid transportation company that can move your products promptly and safely. Kan-Haul has specialized in domestic and international, food-grade bulk liquid transportation for more than thirty years – so you can trust us to deliver.
Any company that wants success will need to keep up with the latest trends and advances in their industries, and that goes for bulk liquid transportation as well. Here's a look at some of the emerging trends in bulk liquid transport that your company should be familiar with.
Trends in the Liquid Bulk Transportation Industry
2019 was an important year for liquid bulk transportation. Due to acceleration in domestic industrial growth and a need for increased transportation capacity, there were several important changes to infrastructure and supply chain efficiencies. A new urgency to combat climate change and a tight labor market heavily influenced the industry as well. This helped foster an environment for rapid growth and innovation.
Some of the emerging trends in the industry since then include:
1. Technological Advances
The process of loading, unloading, and transporting has become more efficient, saving your shipping company both time and fuel costs. In addition, new efficiencies brought about by technology can help your company reduce carbon emissions and other types of pollution.
One example of new efficiencies is bulk liquid containers with improved resin material that reduces transport failures and increases the longevity of the containers. Kan-Haul utilizes the latest, most advanced containment systems to protect your product and increase your profits.
2. Increased Demand for Drivers
2019 saw a severe shortage of truck drivers, largely due to a higher demand for drivers created by rapid growths in online shopping, and to greater numbers of truck drivers retiring. The American Truck Association estimated that in 2019, an average of 110,000 new drivers would have to be hired each year in order to meet the demand.
The industry is still growing, and more drivers will need to be hired amid a shortage of skilled drivers. The DOT (Department of Transportation) recently introduced new programs that are designed to streamline processes and increase the number of available truck drivers.
This shortage, which has carried into the present, led to shippers developing new practices allowing them to adapt to longer lead times for scheduling a shipment. Because of this, the U.S. government launched new programs to encourage entry into the industry. These programs involve military recruitment, giving companies the option to waiving some of the certification requirements for military trained drivers who have experience driving heavy trucks. In addition, military truck drivers who are under 21 can now qualify for commercial driver's license certification.
Recruitment efforts have also shifted to include a focus on encouraging more women to enter this predominantly male field. Alternative positions within the trucking industry, featuring more regular hours and less travel, may hold greater appeal for women seeking to enter this field.
Trucking companies are also improving their benefits and restructuring their travel routes in order to both attract and keep drivers. Some of the proposed options for improvements include pay increases, lowering the driving age, and supporting drivers' personal lives by providing more family time.
Not only does the trucking industry need more employees, but they also need to educate drivers on distracted driving, particularly when it comes to texting. According to the National Highway Traffic Safety Administration, in 2016 there were 3.450 deaths caused by distracted driving.
At Kan-Haul, we recruit and train drivers with a focus on ensuring that our employees are happy, healthy, and safe on the road. In turn, our drivers provide top-notch service and go the extra mile to make sure your products are delivered in a safe, timely, and cost-efficient manner.
3. Consolidation
Consolidation occurs when manufacturers integrate upstream suppliers or downstream distributors with their existing operations. The growth of ecommerce and direct-to-consumer sales, along with the need for companies to control on-time delivery while simultaneously managing driver and equipment shortages, can contribute to reducing the value of supply chain distributors – but may be beneficial for your company.
The process of consolidation allows you to reduce dependence on middle-chain suppliers and expand into new markets while vertically integrating your operations. While the global pandemic has slowed consolidation, it's predicted that this activity will not only resume, but potentially accelerate in the post-pandemic world.
4. Sustainability
The development of advanced plastics used in the manufacture of intermediate bulk containers (IBC's) such as drums and totes has benefited the liquid bulk transportation industry. IBCs are food-safe and can be used for other bulk transports, including liquids. One advantage of IBCs is that they can be reused, which helps to reduce waste. IBCs are also significantly lighter than stainless steel tanks, and a lighter load increases the fuel efficiency of liquid transport trucks.
It is more environmentally friendly to use larger bulk liquid containers with greater durability as opposed to smaller containers, which usually have a shorter service life and wear out faster through continual use.
The current focus on environmental issues has also contributed to sustainability in the bulk liquid transport industry. Climate change and environmental regulation have led to commitments to both increase fuel efficiency and reduce emissions. Because of this, the use of alternative technologies such as natural gas, hybrid vehicles, and fuel cells will increase within the next few years.
COVID-19 Setbacks
The COVID-19 global pandemic brought about a rapid decline in domestic and international economic activity. While the bulk of manufacturing was still considered essential, there were major shifts in production and distribution processes that seemed to occur overnight. This included the rapid need to increase production of medical supplies and hand sanitizers, as well as the need for testing and sanitizing tools and equipment.
The impact of the pandemic also brought tightening cash flows, rampant uncertainty, and changed priorities in order to care for personal and employee health. Although the well-being of employees remained a top priority, the additional and necessary precautions caused a slowdown among distributors and suppliers, delaying many shipments.
As the world begins to return to normal, Kan-Tech continues to take important precautions to ensure the safety and health of our employees, customers, and end-users.
Outlook
Overall, as we begin to turn a corner and enter the new normal, companies are starting to see improvements with their businesses. The liquid bulk transportation industry has never been more essential than in these ever-changing times. That's why we're committed to ensuring that your products are delivered safely and reliably, using the latest industry advances alongside important safety precautions, to keep your business moving forward in uncertain times.
Are you looking for reliability and integrity when it comes to safely transporting your bulk liquids? Kan-Haul is the company for you. For more information on how we can help with your bulk liquid transportation needs, contact Kan-Haul today.
---